Guests will experience one of the original and most musical collections of crystal bowls, played by bowl master Daniel Lauter. He pioneered the use of
these sound tools in the United States! You'll receive an amazing meditative Sound Bath & Deep Relaxation Mindfulness Meditation that will melt away
stress and leave you calmer, recharged and your mind clear and vibrant. Soothing and Deeply Relaxing, enjoy a Mindfulness and Sound Meditation
with hand selected exquisite Crystal Bowls, Crystal Gongs, Tibetan and Himalayan Bells, customized per group, sessions are 1 Hour. Sessions are held at Granite Court Retreat, Chappaqua; as well, recent sound bath meditations include Southampton Arts Center, CoSM, Hudson Valley Healing Center, Beacon of Light Wellness, Mandala Yoga. Details: daniel@meditationdj.com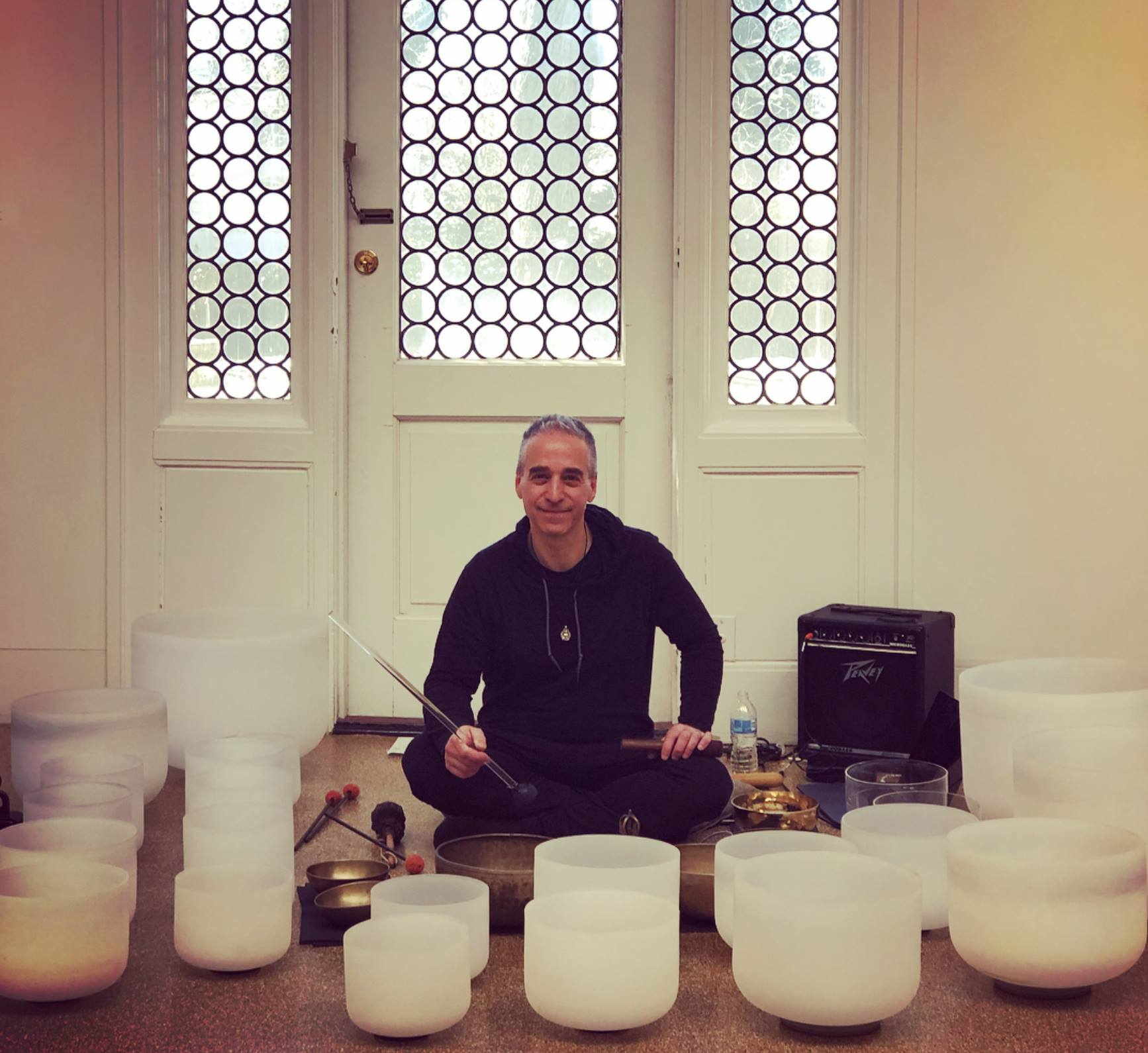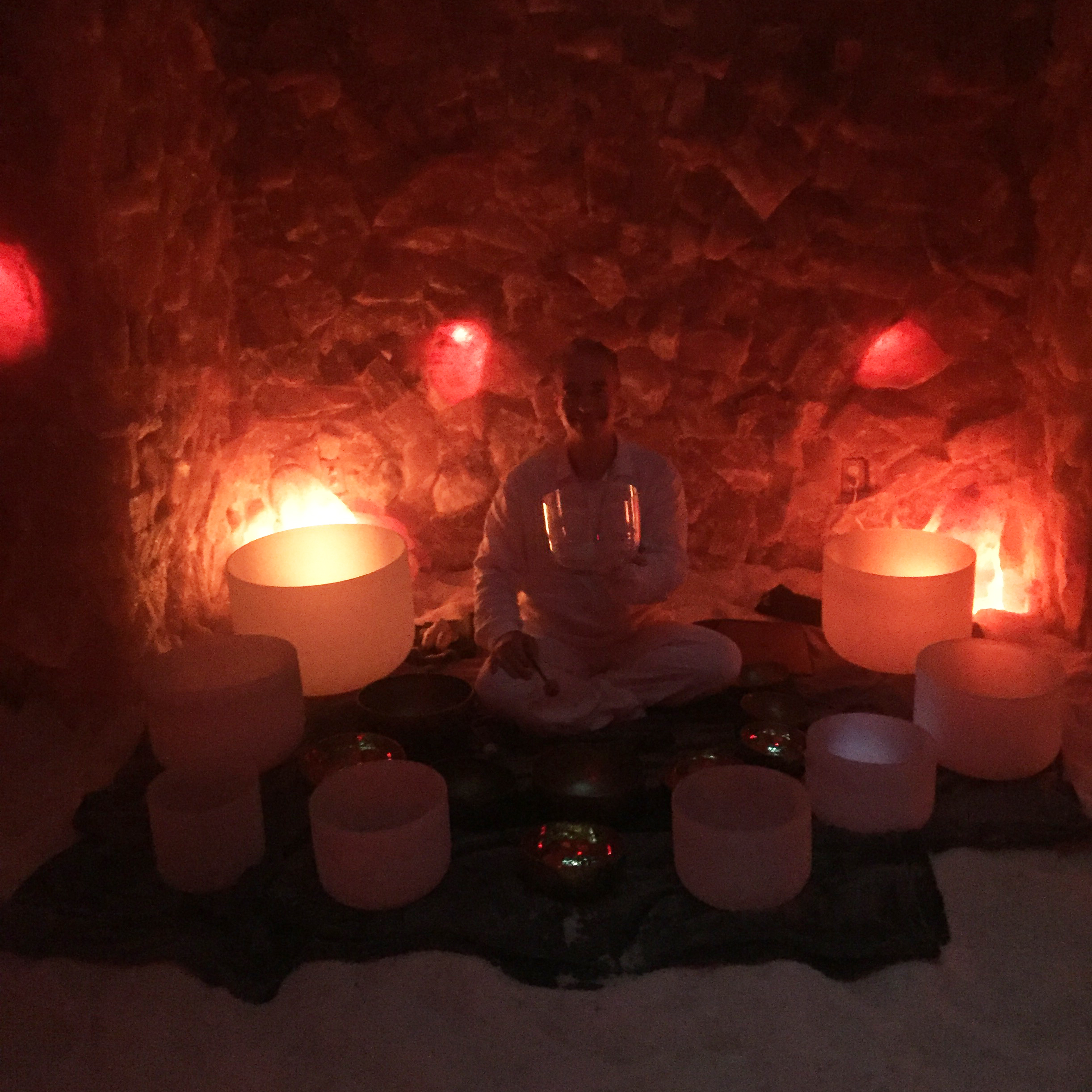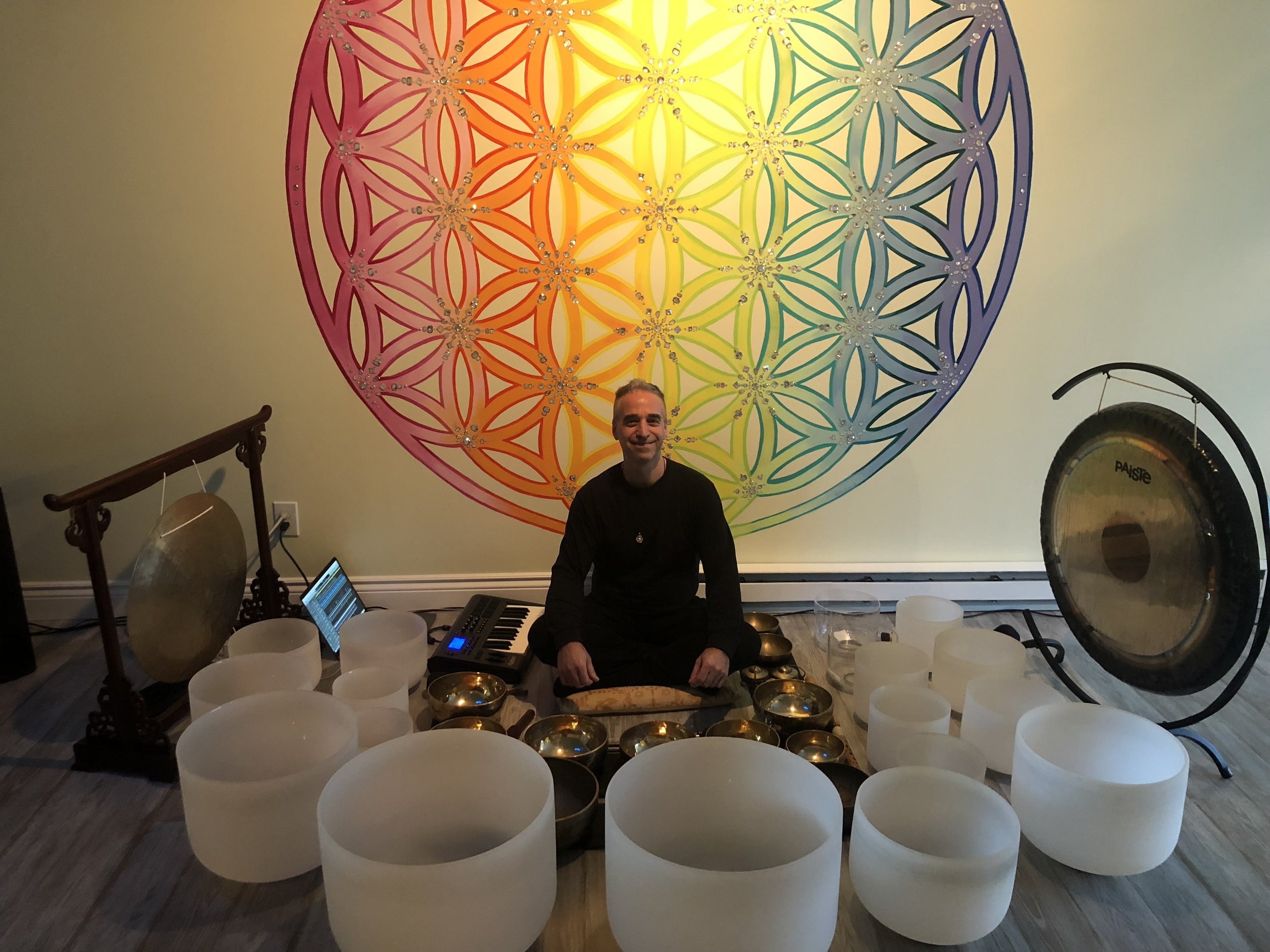 What's a Sound Bath?
Sound Baths are immersive sound meditations that use instruments and objects d'sound specifically for deep relaxation, reduction of stress, lessening of anxieties and for many, as a means of self healing and personal transformation. Sound meditations are based on one of the fundamental threads in the universe, that all things vibrate. These vibrations travel, creating beautiful melodies, harmony and resonance. The sound waves are absorbed through the mechanics of the ears, the skin, through bone conduction, and also can be felt on a deep molecular level through the strong vibration. The whole body "listens" to these sounds, sympathetic vibrations that are felt in our central nervous system. You awaken and stimulate what is referred to as your 'Sound Body'. It is like you are tuning your body and mind. This process reduces cortisol levels, stimulates the production of beneficial nitric oxide, lowers blood pressure, reduces your heart rate and allows you to quickly reach relaxing brain waves states. These sounds when combined with meditative breathing, on a neurological level, allow a circuit to switch in your brain that helps you go into deep relax mode.
Enchanting Hangdrum / handpan
sweet soothing ocarina, tibetan bowls, pow wow drum

What People Are Saying:
Being in that room, hearing you play (especially the big bowl) was my favorite auditory experience in a decade. I️ highly recommend!!
Karen Young, Yoga Instructor

Sound has intelligence and a healing language that vibrates for any who will listen. Daniel exudes this inner language from his entire presence. When he picks up a crystal bowl and makes it sing.... the entire room reverberates! - Diahne Parsons, The Harlem Times
This is the COOLEST and MOST RELAXING experience I have seen in a while. I was lucky to experience these one-of-a-kind bowls… easy and enjoyable
and perfect for first-time meditation, and also for advanced practitioners. Highly recommend! - Michelle Sydney, Parent, Theorist, Workshop Presenter

I attended another Sound Bowl Meditation with Daniel Lauter this morning. Thank you Daniel for your superb musicianship with the bowls and a wonderful meditation. 💙 Amy Axelrod Kaufman, Certified Reiki Master Practitioner

I had an amazing experience at a crystal bowl session with Daniel Lauter today. I don't remember last time being so relaxed... and I take my relaxation seriously :) Thank you Dan!!! Marta Gil, Children, Youth, and Family Yoga Teacher
Thank you for sharing your wisdom and for the magnificent sound bath!
Beacon of Light Wellness Center
A great experience- highly recommend!
Jodi Misher Baretz, Integrative Psychotherapist, coach and author

Daniel, thank you for the most amazing crystal bowl meditation class-Chappaqua peeps run and attend anything Daniel does-he's fantastic!!!
Johanna Robinson Nayyar, Chappaqua, NY

Thank you for hosting. You are a truly gifted meditative master! Hermian Charles,
Parent, Independent Thinker

Thank you Daniel and Donna so very much for this beautiful sound bath soul healing experience. 🙏🏻😊 . Deborah Fusco-Amjadi,,
Reiki Master Teacher and Practitioner

Thank you Daniel and Donna! What a rejuvenating meditation!!, Julie Greco,
Marine Scientist, Activist

It was so helpful... so healing. Tara Framer,
Homeopath

Thank you for the incredible experience. Judie Kaplan,
Personal Concierge

It was really cool! Thank you!! Natasha Panzer,
Mama, Teacher, Learner, Leaper, Twirler

Kind, Peaceful, Centered and Balance and plays ahhhhh beautiful,
Bernadette Bloom, Energy Healer
Daniel's Crystal Bowls/Healing Sounds are exquisite ... Today's Sound Meditation was wonderful, serene, awesome, energizing and absolutely perfect. Looking forward to the next one. - Rosemarie Carbajal, Westchester, NY